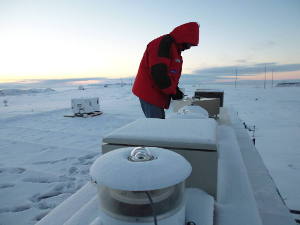 Task 1.1 - Radiation and energy budgets and fluxes of mass, heat and momentum at the air-snow-ground interface
Specific activities
Radiation energy budgets, Arctic ABL dynamics, role of clouds, water vapor, aerosols and albedo, influence of the chemical composition on the radiative balance in the strato-mesosphere, development of parameterizations for climate models at the regional scale.
Institution: CNR (CNR-ISAC, CNR-IIA, CNR-IBAF, CNR-IDPA) - INGV
Expected results
- Meteo-climate peculiarities of Kongsfjorden, in particular in periods of seasonal transition: characterization, cataloguing.
- Parameterization of the exchange processes between the surface and the atmosphere, especially in reference to radiation and energy budgets.
- Integration of information and data acquired from the scientific platforms in the information system.
- Construction of the catalogue of measures.
Task 1.2 – Oceanographic observations and processes at atmosphere-hydrosphere-cryosphere interfaces
Specific activities
Circulation, dispersion and sedimentation processes, ocean exchanges, at airsea fluxes in the fjord reconstruction of recent history by sedimentary deposits (100-200 years).
Institution: CNR - (CNR-ISMAR, CNR-ISAC, CNR-IAMC, CNR-ISSIA)
Expected results
- Hydrological survey and oceanographic observing site maintenance.
- Water and carbon fluxes at the interfaces of the Kongsfjorden.
- Map of the thicknesses of modern sediment in the inner fjord.